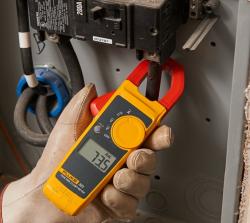 Calibrating Your Amp Clamp Meters
Clamp on ammeters (also known as Amp Clamps, Clamp Meters and Current Clamps) are used to measure electrical current flowing through conductors. They clamp around conductors allowing the user to measure current without breaking into the circuit. In addition to current, most clamp meters typically measure voltage, resistance, continuity and other functions commonly found in a digital multimeter.
Rest assured that HDCL will test multiple points across the range of your clamp meter and each measurement function. For more information please give us a call or submit an online quote request.
As always, we strive to calibrate your equipment and return it to you as quickly as possible. Our standard lead time is 5 to 7 business days.
If you need your equipment returned even more quickly than our standard lead time, just let us know. We offer two expedited services.
48 Hour Calibration: 30% Expedited Service Fee
Next on Bench Calibration:  40% Expedited Service Fee